This vegan borani banjan is a vegan dish inspired by the traditional Afghan dish. I saw a recipe for it somewhere ages ago, unfortunately I couldn't find the original anymore. But last year I decided to make a vegan version of what I could remember from the recipe. This is the result!
What is in borani banjan?
It's a dish with charred aubergines, yoghurt, a tomato sauce laced with mint, and bulgur. For this version it's roasted aubergines, a heavy-on-the-mint tomato sauce, pomegranate seeds, bulgur or coarse semolina with big white beans, and a dollop of cream.
Bulgur or Semolina
For this dish you can use semolina or bulgur. I personally enjoy both. So it's up to you to choose which one you'd like or can get your hands on the easiest. What's the difference? There isn't really but read more about it here. If you're gluten free you could go for rice or quinoa even.
Important for this dish (and every dish for that matter) is to flavour every element. We'll sautée some onion and cook it with the semolina. Then, the beans go in, lemon juice, and pomegranate seeds.
Pomegranate & Mint
A little trick to peeling the pomegranate: cut it in half and then cut along the 'veins', that way you can easily get the seeds out, see the picture below for how I did it.
The pomegranate seeds in this really take it to the next level. I love having a bite and then a hit from the pomegranate. The mint in the sauce and on top elevates the freshness of this dish. Also it offsets the rich, deep flavour of the roasted aubergine. The finish it all off, the traditional dish uses yoghurt. So, you can go a few ways for this vegan version. One would be to buy your favourite vegan yoghurt and use that. Two would be to buy some kind of vegan cream and use that cream. Alternatively, if you're in the mood, you could make your own cashew cream and use that. I'd say the benefits of making your own cashew cream are manifold. You could have tacos the next day, or my enchiladas, or make a tzaziki!
As always, please share with your friends. Leave me a comment on here or on Instagram. Save this on your computer or on Pinterest. And happy eating.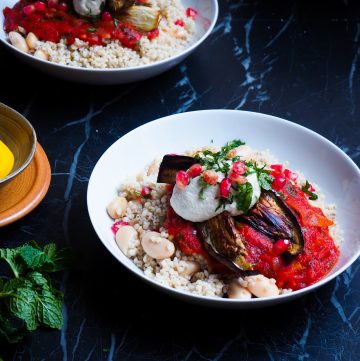 Vegan Borani Banjan
Inspired by an Afghan classic. Semolina with white beans, pomegranate seeds, lots of fresh mint, a tomato sauce infused with mint, roasted aubergines, and a dollop of cream or yoghurt.
Ingredients
Tomato Mint Sauce
3

tbsp

olive oil

½

white onion, diced

4

cloves of garlic, minced

salt

1

tbsp

balsamic vinegar

1

tin

chopped tomatoes

(400 grams)

cracked black pepper

2

big handfuls of mint, finely chopped
White Bean Semolina
1

tbsp

olive oil

½

white onion, diced

salt

1.5

cups

coarse semolina or bulgur

(±300 grams)

1

bay leaf

3

cups

water

(make sure you have a 1:2 ratio)

1

tin

big white beans

(

1

pomegranate

1

lemon, squeezed
Roasted aubergine
1

aubergine, quartered

salt

pepper

olive oil

4

tbsp

vegan yoghurt or cream

extra chopped mint

extra pomegranate seeds
Instructions
Start by preheating the oven to 200 °C (392 °F). Quarter the aubergine, sprinkle with salt, and put to the side where it can release some of its moisture.

Get a pot on a medium heat, add olive oil. Dice the onion and add to the pot. Sprinkle with salt. Add the garlic. Once softened and starting to brown, add the balsamic vinegar. Add the chopped tomatoes and black pepper and let simmer.

Drizzle the aubergines with olive oil and pop in the oven for 30 minutes until golden brown.

Rinse the semolina and drain. Get a pan on a medium high heat, add olive oil, and sautée the onion. Once softened, add the bayleaf and the semolina. Add water and bring to a boil. Once boiling, cover with a lid and boil for 15 minutes.

Rinse the beans. Remove the seeds from the pomegranate.

Add the chopped mint to the tomato sauce.

Once the semolina has cooked for 15 minutes, take off the heat and let sit for 5/10 minutes.

In a bowl, add the beans, the pomegranate seeds, the semolina, squeeze the juice of 1 lemon, and mix all together.

Take the aubergines out of the oven.
To Serve:
First add a serving of semolina-bean mix, top with a big spoonful of tomato mint sauce, the roasted aubergine, a dollop of yoghurt or cream, a bit of fresh mint, and some pomegranate seeds.
Notes
This all keeps in the fridge for a few days. I'd always say use a bit of common sense when keeping for in the fridge and reheating. 
Make this gluten free by using rice or quinoa!