This boozy vegan mac 'n cheese has a surprise ingredient. Can you guess? It's a shot of tequila. I know, wild. These days I don't seem to be drinking tequila anymore. So I decided to put it in my food.
Tequila? Are you mad?
Let me put your worries to rest. No it doesn't make the mac 'n cheese taste like tequila. It's just one of the many flavours we're adding. If you really don't like tequila, or if you're staying away from alcohol altogether; feel free to leave it out! Obviously, cooking with booze makes the alcohol evaporate. What's left is a nice depth of flavour. Like adding a red wine to a bolognese. Or white wine to a creamy mushroom sauce. Or penne alla vodka.
The mac 'n cheese sauce
I've been testing a mac 'n cheese recipe here and there for a while now. And I'm very happy with the end result. This sauce is completely soy and nut free. Which makes it great for people with common allergies. We're using a few vegetables and some other flavour inducers to make a lovely, creamy, rich sauce. A fall classic.
A very important part of making this sauce is the deglazing. That's the part where you incorporate all the nice bits in the pan into the liquid. It's what gives the dish a depth of flavour and that umami we're looking for. I'm also using Marmite again (I also did in this recipe). If you're more of a Vegemite fan, no problem. If you don't like either of them or you don't have access to the product; also fine. You could maybe use a stock cube instead. The reason I like adding it, is it's salty, umami, and provides that yeasty, cheesy goodness in the flavour palette.
Finally, we're topping the mac 'n cheese off with a bit of crunch and baking it in the oven. In my opinion mac 'n cheese should always be baked. Who doesn't love those crunchy bits on top?? When baking a pasta dish, make sure you cook the pasta very al dente. It'll be cooking through a bit more in the oven and overcooked pasta is.. just.. no. I love using these penne from Barilla.
Like always, save this recipe for boozy vegan mac 'n cheese, pin it to your Pinterest, share with friends and family, and enjoy!!!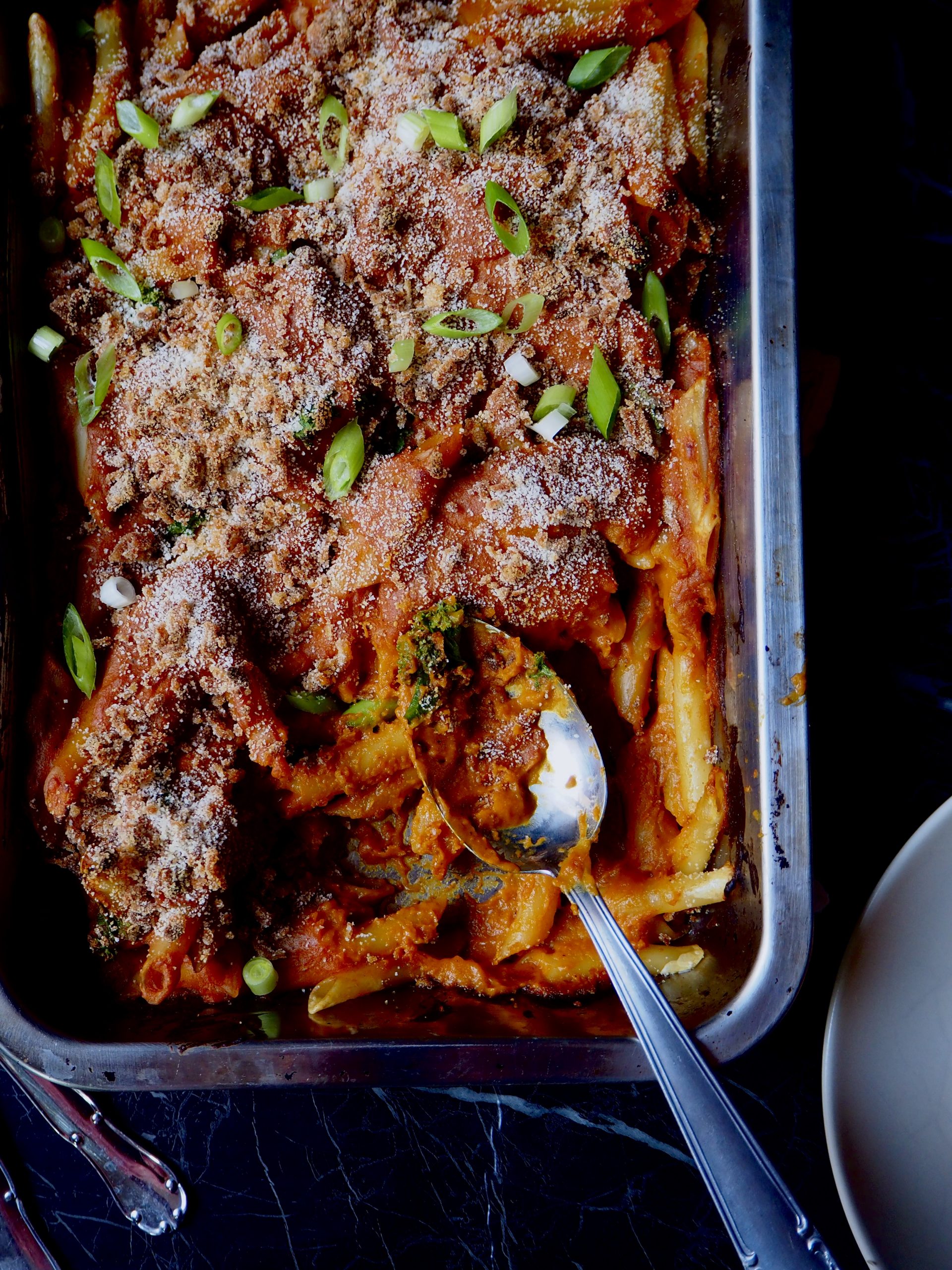 Boozy vegan mac 'n cheese
An autumnal, plant-based version of the classic mac 'n cheese with a twist: tequila!
Ingredients
1

tbsp

margarine

+2

tbsp

olive oil

(i used my chilli infused oil)

1

onion, diced

4

cloves of garlic, crushed

pinch of salt

1

red pepper, finely diced

(bell pepper/capsicum)

1

tbsp

tequila

(gold)

1

tbsp

tomato purée

(concentrate)

1

tbsp

Marmite

1

tsp

rice vinegar

(other vinegar works too)

5

sun dried tomatoes (finely diced)

1

tbsp

flour

400

ml

unsweetened oat milk

(or any other milk of your preference)

100

ml

water

1

small butternut squash, in small cubes

1

carrot, in small cubes

1

small sweet potato, in cubes

1

small potato, in cubes

cracked black pepper

1

tsp

oregano

1

tsp

paprika

½

tsp

smoked paprika

½

tsp

chilli flakes

½

tsp

nutmeg

½

tsp

turmeric

25

grams

nutritional yeast

(½ cup)

500

grams

penne lisce

(pasta of your choice)

2

stalks of kale

optional!

30

grams

crispy onions

(±2 tbsp)

30

grams

bread crumb

(±2 tbsp)
Instructions
The Mac 'n Cheese sauce
Get a pan on a medium high heat, add the margarine and olive oil and when hot, add the onion, garlic and a sprinkle of salt. Cook down a bit.

Add the red pepper and let this cook down more and lightly brown while you chop the rest of your vegetables.

Once it's started to lightly brown in the pan, we're going to move in a few quick steps. First we're deglazing with the tequila. Then in goes the tomato purée, Marmite, the rice vinegar, the sun dried tomatoes, and the flour. Stir it all well to incorporate and then add the milk and water.

Make sure you scrape down the bottom of the pan to incorporate all those nice bits into the sauce. Now add all the other veggies; the butternut squash, carrot, sweet potato, and potato. Turn down the heat to a low-medium heat.

Add the pepper, oregano, nutmeg, turmeric, paprika, and smoked paprika. Cover with a lid and let this cook until the veggies are tender for 15 minutes.

In the meantime, get your hand mixer or blender ready and do a bit of cleaning up.

Once the 15 minutes are done, transfer everything from the pan into a bowl. Set aside while you give the pan a quick rinse and get the pasta water to a rolling boil.

While you wait for the water to boil, add the nutritional yeast, and blend the sauce until it's smooth. Stir the crispy onion and bread crumb together in a small bowl.

Pre-heat your oven to 200 °C (392 °F)

Add the pasta to the pot and cook al dente. I use the penne lisce and they cook al dente in 8 minutes so I cook them for 7. Get a baking tray ready with a bit of olive oil.
Assembling the Mac 'n Cheese
Drain the pasta and add to the baking tray. Stir in the sauce, add the kale if you want, and top with more sauce. Top with the crispy onion and bread crumb.

Bake for 10/15 minutes, until golden brown on top.

Serve with some fresh spring onion on top.
Notes
This recipe can easily be made gluten free if you use GF pasta and GF bread crumbs. and flour! You could sub for rice flour for example. 
Keeps in the fridge up to around 5 days. You can re-heat in the oven. (or microwave).