What if I told you that you could make crispy polenta not one, but two ways? Baked, crispy polenta is such a nice meal. Don't get me wrong, regular cooked polenta is lush. But shaped like chips and crunchy? Oh yeah. I'll be taking you through the steps of making polenta first. Then how to get it to crispy by just baking it in the oven. What's more? We're going to serve it up in two different ways. Crispy polenta chips (or fries) and a polenta fillet to pop in a sandwich.
Polenta
Polenta is a dish made with cooked corn meal. It's very typical around parts of Italy, France, Switzerland, and some other spots. Delicious and a great gluten free option too! Although you could just cook it and be done with it, you can also bake it. Or fry it! But we're going for oven baked here to save ourselves the hassle.
Let's start with cooking the polenta in part water, part milk. Of course, I mean a plant-based alternative to milk. We'll season the liquid, bring it to a boil, and pop in the polenta. With polenta, it's important you keep stirring while it thickens up. This should only take about 3 minutes, maybe 5. We'll season the cooking liquid with salt, pepper, oregano, paprika, nutritional yeast, and a bit of nutmeg.
Crispy polenta
To get the polenta nice and cwispy (looking at you, Joshua Weissman) we're letting it cool first. Then, we'll cut it into the shapes we want, cover with a bit of oil and sprinkle on some more polenta. Bake it at a high heat, and ta-da! Crispy polenta. Soft, tender in the middle.
We'll serve the polenta chips with a bit of mustard, ketchup, any dip you fancy! The polenta 'fillets' I decided to put between two slices of sourdough. A spoonful of aioli (recipe found here). Also going on there: spinach, fresh mint, sun dried tomatoes, and red onion.
As always, save this recipe. Pin to Pinterest. Share and leave me a comment here or on Instagram! Happy eating!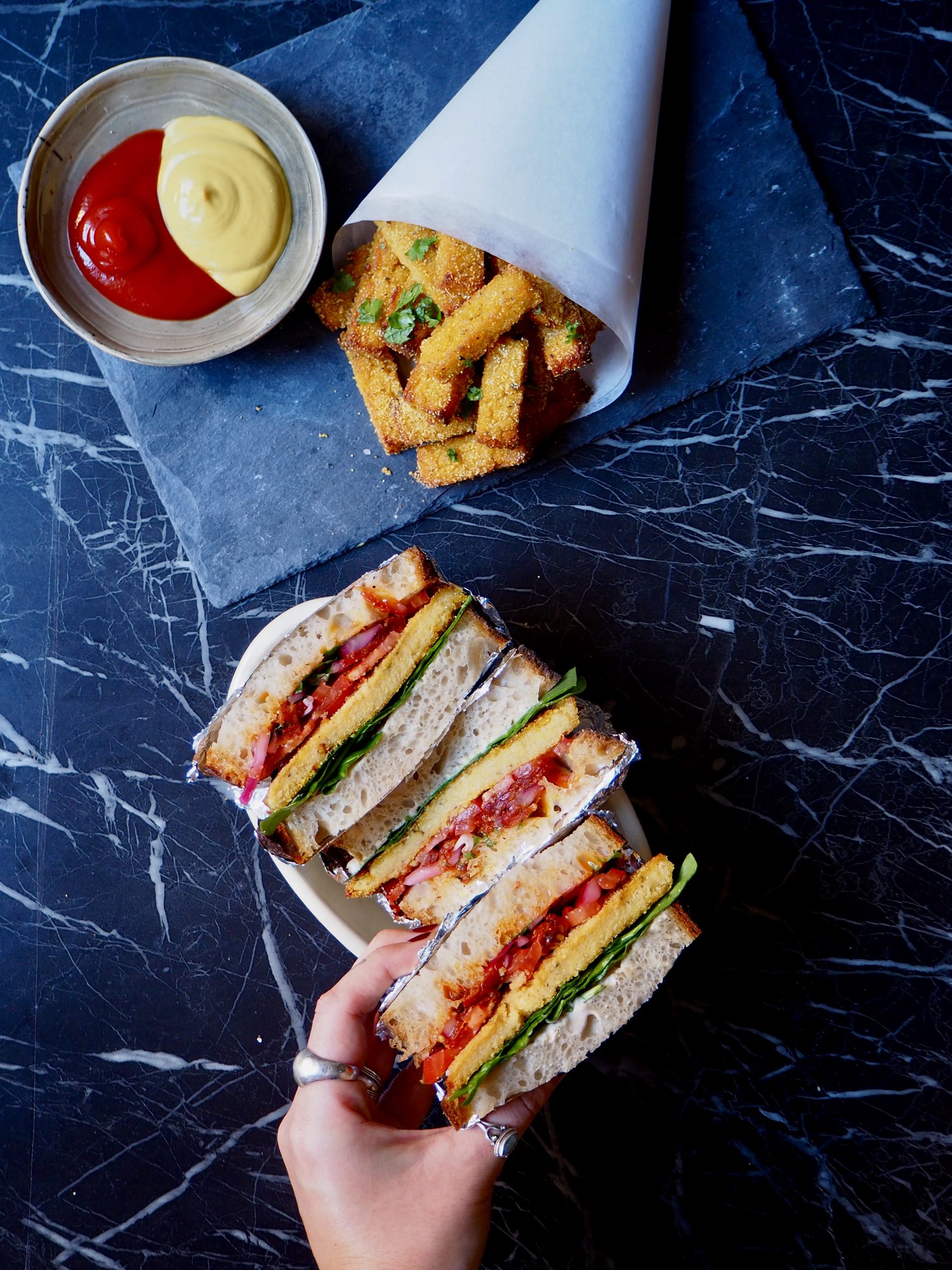 Crispy Polenta Two Ways
Crispy baked polenta from the oven, two ways! Both chips and a crispy polenta 'fillet' for a delicious sandwich.
Ingredients
300

ml

water

1 cup

300

ml

oat milk

1 ¾ cup (or any other alternative you prefer)

pinch of salt

pepper

2

tbsp

nutritional yeast

1

tsp

oregano

1

tsp

paprika

½

tsp

nutmeg

1

tsp

garlic powder

187.5

grams

polenta

(1 heaping cup)

2

tbsp

polenta (for dusting)
Instructions
Start with getting the water and milk to a boil. Add all the seasoning; salt, pepper, oregano, paprika, nutmeg, garlic powder, and nutritional yeast.

Once it's boiling, add the polenta, turn the heat down, and keep stirring until it's thickened up. Only do this for about 3 minutes.

Transfer the polenta to a baking sheet or tray and spread out to about an inch (1.5 cm) thick. Put in the fridge for an hour.

Once the hour is over, pre-heat your oven to 220 °C (428 °F). Brush the polenta with olive oil and cut into the desired shapes. Dust with polenta and pop in the oven for 30 minutes.
Crispy Polenta Sandwich
Take two slices of bread, spread on aioli on one side, add spinach, add the polenta, sun dried tomato, pickled red onion, a bit of coconut sriracha, salt, pepper, and some fresh mint.
Notes
Polenta is gluten free. If you use gluten free bread, this is entirely GF.
Keeps in the fridge for a few days but best eaten straight away.