This vegan mushroom tomato ragú is a delicious, cosy meal for any day of the week.
Mushroom & Tomato Ragú
Mushrooms and tomatoes go very well together. One thing I will say about mushrooms is that you need to cook out the liquid. They hold up to 92% water and if you leave that in, you'll have squishy mushrooms. Which I personally am not a fan of. So make sure you give them the time to release the water and get a nice brown colour. If you've ever seen any of Derek Sarno's videos about mushrooms, you'll know he's a big proponent of pressing mushrooms. Now, for this recipe you don't necessarily need to press them. But it's definitely a good technique to know about! Be sure to check out some of his recipes on Youtube.
I love using red wine in a tomato sauce. It makes it so much more rich, decadent almost. The wine you use for cooking really doesn't have to be anything fancy. If you don't drink, you can use any red wine really since you won't maybe be having a glass while cooking. If you do enjoy a glass of red wine, pick one you don't feel bad about cooking with. It's definitely delicious to have a glass of red alongside this vegan mushroom tomato ragú.
Pasta
Behind which sauce to serve with which pasta there is a science. If you have a chunky sauce, it should go with a chunky pasta. If you have a smooth sauce, it should go with smooth pasta so it coats all the pasta in the sauce. This is why a simple, smooth tomato sauce is served with spaghetti or tagliatelle. And it's why I recommend having this ragú with penne or maybe fusilli. That way, you get bites of mushroom, tomato, and pasta.
Looking for more dinner inspiration? How about vegan gyros for dinner?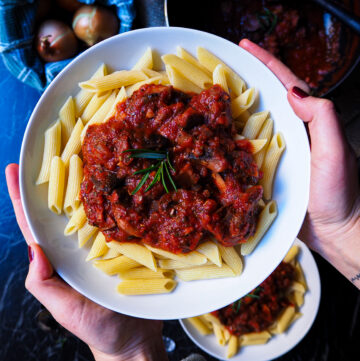 Vegan Mushroom Tomato Ragú
This vegan mushroom and tomato ragú has three different types of mushrooms, red wine, and plum tomatoes. Delicious with your favourite type of pasta.
Ingredients
1

tbsp

vegan butter/margarine

1

tbsp

olive oil

1

onion, minced

4

large cloves of garlic, minced

½

tsp

salt

black pepper

250

grams

portobello mushrooms, quartered

8.8 oz.

200

grams

regular mushrooms, quartered

7 oz.

5

dried and rehydrated shiitake mushrooms, minced

1

tbsp

thyme

1

tbsp

basil

1

tbsp

oregano

180

ml

red wine

¾ cup

800

grams

tinned tomatoes

28 oz.

500

grams

penne rigate

17.6 oz.
Instructions
Mince the onion and garlic, sauté in a pan on a medium high heat. add a pinch of salt.

remove the onion and garlic from the pan once translucent. add in the mushrooms, turn up the heat and cook out all the liquid. if you can find a second pan to stack on top and weigh it down as to press the mushrooms, do so. if not, simply cook until the mushrooms have released their liquids.

add the onion and garlic back in and add the shiitakes and the spices; oregano thyme, basil, thyme.

add the red wine, stir. add the tinned tomatoes and reduce the heat.

let simmer for an hour or so.

cook pasta according to instructions and serve.
Notes
This recipe is gluten free if using GF pasta! 
Keeps in the fridge up to a week. Also can be frozen up to a month.