This recipe is aptly titled "the best vegan brioche buns". I've been working on my brioche dough recipe for a long time, and I'm ready to share it with you. It's pretty straightforward, you just need to get yourself around a little bit of dough-making technique. The very best thing about this plant-based brioche recipe is that it uses simple ingredients. No faffing around with egg replacements, no hard-to-find ingredients. So let's get into it.
Tangzhong: it makes for the best (brioche) dough
The base for our dough is called the tangzhong. Tangzongh is a Chinese tradition in dough making, later used in the recipe for Japanese milk bread dough. Basically, it means taking portions of the water and flour in the dough and heating them up into a paste. This makes for a softer dough and a dough that keeps fresh for longer. I LOVE using this technique for my brioche dough.
Making this might sound intimidating when you've never done it before. But it's honestly easy peasy! Don't leave your mixture on the stove unattended. Mix the flour and water together with a whisk and keep whisking until you can draw a line in the mixture with your whisk and it leaves a mark. Take it off the heat immediately when it's done! Just like you can see here in the photo.
What's in these brioche buns?
A brioche dough is an enriched dough. This means it has one or more ingredients with a high fat percentage. In our vegan brioche bun recipe we'll be using vegan butter (margarine). It's important to make sure you're getting a vegan butter or margarine with similar fat percentages to butter. Look for at least 55% fat. This because if you get a margarine that's a lower percentage, the higher the percentage of water will be, which will have an impact on the dough.
You might be surprised to read that I use water in this recipe, not milk. You can opt for using your favourite plant milk, I sometimes do too. But it's not necessary. This dough turns out so incredibly soft and smooth and buttery, water does just fine. When I do use milk I like using soy, as it's higher in protein (which is similar to cow's milk).
For this recipe, we'll be making burger buns with our vegan brioche dough, but you can use this dough for a variety of recipes! I will be sharing more soon. For now, let's make buns.
If you loved this recipe, I'm sure you'd also love to dip them in these curried butter beans.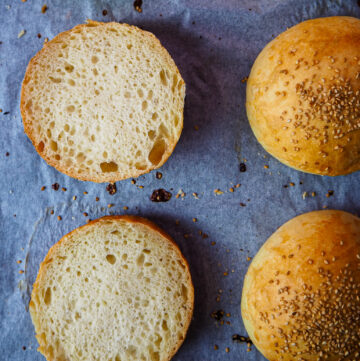 best brioche buns (vegan!)
this is the best recipe for hamburger buns out there, it's all vegan, and using regular, easy-to-find ingredients! make these today!
Equipment
oven

mixer

optional, helps with the dough making but can do with your hands!
Ingredients
tangzhong
60

grams

flour

300

grams

water
dough
540

grams

flour

125

grams

water

145

grams

plant-based butter

room temp, softened

42

grams

fresh yeast

can use dried yeast too

6

grams

salt
no-egg wash
2

tbsp

soy milk

1

tsp

agave

1

tsp

neutral oil
Instructions
tangzhong
mix flour and water together in the pan, over a medium-high heat. keep stirring, not leaving it unattended. once you can draw a shape in the mixture with your whisk, take off the heat. transfer to a plate or tray, cover with plastic film, and let cool in the fridge or freezer whilst you get the rest of your dough together. it shouldn't be hot to the touch when using to make the dough.
the dough
mix the water with the yeast. add in the tangzhong. whisk together. add in the flour and salt. scrape together before using your mixer with the dough hook attached. you can also use your hands. knead together, let rest for 15-ish minutes. then knead until smooth.

once your dough has come together, add half of the butter and mix until fully absorbed into the dough.

once absorbed, add in the other half of the dough and mix until the dough looks very smooth and elastic. you should be able to do the windowpane test. (taking part of the dough and stretching it until you can see through it).

leave the dough to rise in a warm spot until doubled in size.

once doubled in size, knock the air out of the dough and divide into 6 to 8 equal balls. you can do this by eyeballing, i like to weigh them out. i make mine approx. 130/140 grams per ball, depending on my mood.

shape into buns by creating tension on the surface of the bun, basically tucking the dough into itself. place them onto a baking sheet with baking paper.

cover with a damp cloth of another baking sheet (making sure not to squish the dough), until once again doubled in size. they're ready when the buns look nice and jiggly when you wiggle the baking sheet.

pre-heat the oven to 180°C

brush the buns with the no-egg brush and top with sesame seeds.

bake for 25-30 minutes, until golden brown. to know if they're cooked in the middle you can do the tapping test. take a bun (careful, hot!) and tap the bottom. if it sounds hollow, they're done!

let cool at least slightly before slicing into these.
Notes
for the no-egg brush i like using soy milk as it has protein similar to an egg wash. the oil and agave are to mimic other properties of eggs. i've found this is the best way to get that golden colour on your bakes.