Here's the holiday recipe you'll love forever: vegan bourguignon with purée of cauliflower and potato.
Bourguignon
Bourguignon is traditionally called boeuf bourguignon and made with beef. Now, we don't mess with beef here at oh so plantiful so here's a vegan alternative. It's rich, full of umami flavours, has loads of texture and just hits different. The smell of the wine, this definitely evokes the holidays. The main two subs for beef we're using are walnuts and mushrooms. You'll see me use that combo in loads of dishes, reason being that they truly work so well together.
Then, we'll use a few ingredients to pack this dish full of umami richness: sun dried tomatoes, dried shiitakes (or any other dried mushroom of your choice, like porcini), tomato purée, and optional: a tablespoon of my all time favourite: Marmite. I also use Marmite in my minestrone recipe. Because we're adding so many rich flavours, this takes away the need to use a store bought stock cube. Which I like. The last key ingredient in a good bourguignon: red wine. This could obviously be a bourguignon wine, but other red wines will do just fine! I actually use a vegan red wine that I found in Lidl, which is not only delicious but very affordable! And it's only €3. (A Spanish wine, sorry to any Frenchies reading this).
Lastly, make sure you make this ahead of time. The morning of the dinner or the day before. It truly does wonders to let this simmer for at least an hour or two and then let it cool down completely. That's when all those flavours start to really mingle and get to know each other.
Cauliflower and Potato Purée
The purée for this vegan bourguignon isn't just any purée. We'll be roasting the cauliflower and the potato along with cloves of garlic. This gets that nice brown colour on them and takes the purée to the next level. It also makes it very easy to prep! You can roast them whenever is best for your schedule. Then when you're ready to start serving, sauté the onion and garlic, pop in the roasted veg, add milk and purée.
Serve right away and enjoy!
As always, leave me a comment if you make this. Send me your pictures on Instagram. Save this recipe and share with friends & family! Enjoy this vegan bourguignon & purée!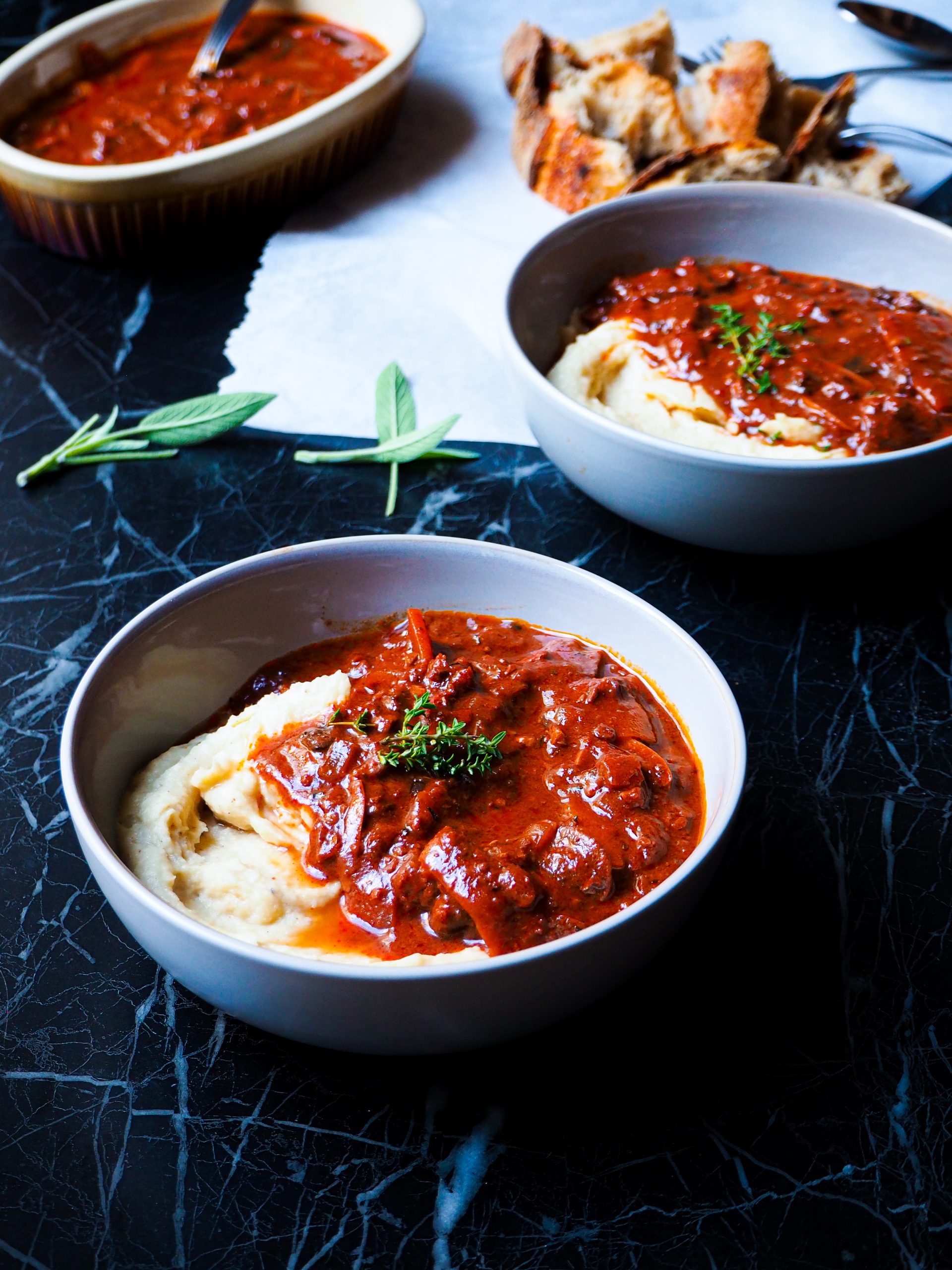 Vegan Bourguignon & Purée
A vegan version of a French classic: this vegan bourguignon is rich in flavour and texture. Served with a roasted cauliflower and potato purée.
Equipment
oven

immersion blender or food processor
Ingredients
Bourguignon
4

tbsp

olive oil

2

tbsp

margarine or vegan butter

2

white onions

6

cloves of garlic

250

grams

mushrooms

3 cups

110

grams

walnuts

1 cup

2

carrots

8

sun dried tomatoes

8

dried shiitakes

2

tbsp

tomato purée

1

tbsp

Marmite

2

tbsp

flour

500

ml

wine

2 cups

750

ml

water

3 cups

1

tbsp

thyme

1

tbsp

sage

3

bay leaves
Purée
1

medium sized cauliflower

6

potatoes

4

tbsp

olive oil

salt

pepper

1

tsp

granulated garlic

12

cloves of garlic

1

onion

1

tbsp

margarine or vegan butter

375

ml

plant based milk alternative, unsweetened. I use soy

1 ½ cups

1

tsp

nutmeg
Instructions
Bourguignon
We're starting with the bourguignon. Rehydrate (soak) your dried shiitakes. Get a pan on the stove, mid to high heat. Add the margerine and olive oil. Dice 2 onions and add to pan. Add pinch of salt. Mince the garlic and add.

Once translucent transfer to bowl. 

Cut the mushrooms and add to the pan. Cook out all the liquid (this might take 10 minutes!).

Add the onion and garlic back in.

Cut the carrots. Add to the pan. Stir. 

In the food processor or attachment to your hand mixer, add the sun dried tomatoes. Pulse a few times until a paste. Add to pan. Stir.

To the same processor, add the walnuts and pulse a few times until large crumbs. Add to the pan. Stir.

In the processor again, add the rehydrated shiitakes, pulse a few times. Add to the pan. Stir. 

Add the tomato purée and stir. 

If opting for it, add the Marmite and stir. 

Add the bay leaves, thyme, and sage. Add cracked black pepper. 

Add the flour, stir well. 

Add the water, put on a medium heat and let reduce and simmer. Let simmer for 2 hours. Cover with lid once reduced to a sauce-like consistency. 
Purée
Preheat oven to 180 C (356F).

Cut the cauliflower and potato in more or less even sized chunks. Add to a baking tray with 8 whole cloves of garlic (give them a whack with a knife).

Add oil, salt, pepper, granulated garlic.

Pop in the oven for 30 minutes. 

Put a pan on the stove on mid-high heat. Add oil and margarine.

Add the diced onion and 4 cloves of garlic. Sauté until translucent. 

Add the roasted cauliflower and garlic. Peel the roasted garlic cloves (it should slip right out). Add those too.

Add the milk and let it heat up. 

Once the milk is warm, put in blender or food processor or use a hand mixer like I did. 

Add salt and pepper to taste and the nutmeg. 

Add to a large plate or bowl with the vegan bourguignon. Garnish with a sprig of thyme.

Enjoy!