Minestrone with crispy chickpea croutons. Sounds good right? This dish is perfect for the new season. Herby, hearty, filling, and great to make ahead of time!
Minestrone
For this minestrone we're making the base (or the stock) ourselves. We're using a few cheats to speed up the process, since making proper stock is best done over the course of a day. Or two! Typically, a minestrone is an Italian soup with a few common ingredients. Tomatoes, some seasonal vegetables, pasta or rice, beans. We're going to use plenty of traditional ingredients. We will, however, also add a few not-so-traditional ones. This stock is definitely inspired by some of the cooking we did during my course at Hofmann Barcelona. (I did a course there in 2019, read more about me here if you like).
For this minestrone, we're going to use kombu. Kombu is a Japanese kelp often used in broths. Feel free to read more about it here! It's great in a broth or stock, it gives off a lot of flavour. We're also using a tablespoon of marmite. Marmite is fantastic for its salty, umami flavours. Another layer of umami (we like umami!!) comes in the form of some sundried tomatoes. Make sure you get the ones in oil.
Chickpea Croutons
Minestrone is often made with some type of bean. So, for this one we're using chickpeas. But, we're not just cooking them in with the soup. We're going to roast these bad boys and sprinkle them on our soup. The key to getting the chickpeas nice and crispy is leaving them in the oven for long enough!! I'm going to give you instructions for time and temperature, but every oven is different. So keep an eye on them and leave them in for longer if you think it necessary. You'd rather leave them in a tad too long than too short.
Ideally, I'd recommend starting this minestrone in the morning if you're planning on having it in the evening. If that doesn't work with your schedule, maybe prep the minestrone the night before. Why? Because broths and stocks  develop their flavours if they get a chance to cool down. The crispy chickpeas and the pasta you can make when you're ready to serve.
Well, save this recipe for minestrone with crispy chickpea croutons, pin it to your Pinterest. Share it with friends and family. Make this today!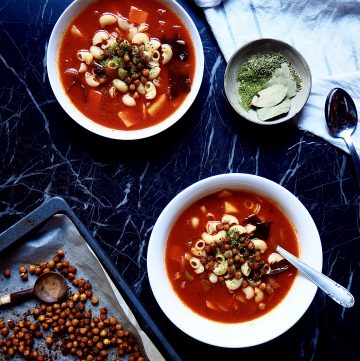 Fall Minestrone with Crispy Chickpea Croutons
A seasonal Italian inspired dish with chickpea croutons and pasta. Hearty and delicious!
Ingredients
Minestrone
drizzle

olive oil

2

white onions, diced

1

tsp

salt

3

cloves

garlic, minced

2

bell peppers, diced

i used 1 yellow and 1 green pepper

1

heaping tbsp

marmite

5

sundried tomatoes in oil, minced

1

sweet potato, medium sized, in cubes

4

potatoes, small, in cubes

pepper

1

kombu leaf, cleaned

4

bay leaves

400

grams

puréed tomatoes (passata)

(1 large tin)

1.5

liters

filtered water
Chickpea Croutons
200

grams

chickpeas

1 small tin

drizzle of olive oil

pinch

sea salt

i like to use Maldon salt

cracked black pepper

1

tsp

paprika powder

½

tsp

crushed chilli flakes

1

tsp

oregano

1

tsp

thyme

1

clove of garlic, crushed with the peel on
Optional
400

grams

pasta

i used small elbow pasta
Instructions
Minestrone
Start with getting a big pot on the stove on a low to medium heat. Drizzle in a generous amount of olive oil. Once warm, add the onion, salt, and garlic. Sautée until softened.

Add the peppers and turn up the heat a little. Once they're starting to cook down, add the marmite and the sundried tomatoes. I like adding some of the oil from the sundried tomatoes too.

Throw in the sweet potato and potatoes, a bit of black pepper, the kombu leaf, the bay leaves, the puréed tomato, and the water.

Stir well and let simmer for an hour. After an hour, you can take this off the heat. Let rest until you're read to serve the minestrone.
Crispy Chickpea Croutons
Preheat your oven to 175/180 °C (350 °F). Line a baking tray or sheet with parchment paper.

Rinse and dry your chickpeas. Once dry, add them to the baking tray. Drizzle with olive oil, add the salt, pepper, paprika, chillies, oregano, and thyme and move around so all the chickpeas are coated. Throw in the crushed garlic clove.

Put in the oven for 30 minutes or until golden brown and crispy!
Pasta
Choose your pasta and cook, following the instructions on the bag.
Back to the minestrone
After the minestrone has had the chance to cool down, start warming it up whenever you're ready to serve. P.S. you can pick out the bay leaves and the kombu leaf before serving this.

Serve the minestrone hot, topped with pasta and chickpeas.
Notes
This dish is easily made gluten free if you use GF pasta!
Keeps in the fridge for up to ca. 5 days. Freezes well too.