This Vegan Sicilian Bean Salad is perfect in so many ways.
More than a salad. More than a vegan salad.
To call this vegan Sicilian bean salad a salad might be misleading. At least for those people who still think salads are sad, drab meals that are dry and never have enough dressing on them. This dish has it all: potatoes, butter beans, green beans, olives and capers, red onion. And enough dressing, bless.
I don't tend to focus too much on nutrition specifically as I like my food to be about enjoyment and freedom. But of course I also enjoy making sure I get a lot of nutritious meals in my body. This one has great carbs, vegan protein, minerals and vitamins, and fats. What's not to like?
Sicilian Bean Salad
Let me also preface this recipe by saying that I've always known this recipe to be Sicilian, but if you're Sicilian and are like "what the hell", then apologies.
My mum used to make this recipe for years when I was younger. It was a slightly altered version, with no chimichurri aioli and the potatoes were simply boiled. Now, I love a potato in every way they come but when I can choose for roasted potato, I will. I recommend making sure you chop the potatoes into relatively small cubes if you want them to cook quickly. The larger the cube, the longer the wait.
The recipe for my aioli you can find here. A chimichurri spice blend should be available at your supermarket. If not, usually it's a mix of oregano, parsley, basil, thyme, paprika, salt, garlic, pepper, and crushed chillies.
Did you enjoy this vegan Sicilian bean salad? Leave me a comment or message, I love reading them! And if you're into Italian style meals, you'll love this easy pasta recipe.
Make sure you also check out my YouTube video on this recipe.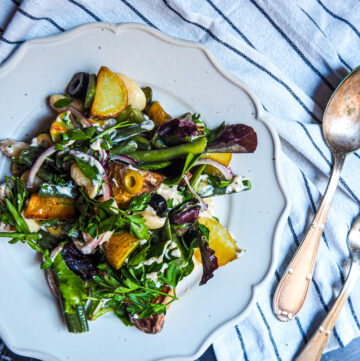 Vegan Sicilian Bean Salad
This vegan Sicilian bean salad has it all! Potatoes, butter beans, veggies, olives, and not 1 but 2 delicious dressings. Check out the recipe below!
Ingredients
4

medium/large potatoes

2

tbsp

olive oil

½

tsp

salt

200

grams

mixed lettuce

150

grams

green beans

haricot verts

250

grams

butter beans

cooked

75

grams

green olives, pitted and in slices

75

grams

black olives, pitted and in slices

50

grams

capers

½

red onion, thinly sliced

50

grams

flat leaf parsley

(small handful)

1

tbsp

dijon mustard

1

tbsp

vinegar, i used balsamic

1

tbsp

agave or brown sugar

½

tsp

black pepper

½

tsp

salt

4

tbsp

olive oil

2

tbsp

vegan aioli (with chimichurri spices)

check out my aioli recipe linked in the text!
Instructions
Start by preheating the oven to 200 °C (400 °F).

Cube the potatoes, rinse in cold water and dry, spread out on a baking sheet, drizzle in olive oil, salt and pepper.

Pop potatoes into the oven for about 30 minutes or until golden brown and tender when you stick a fork in them.

Rinse the green beans, add to a pot of cold water, add salt, and bring to a boil. Cook al dente.

Slice the olives. Rinse the butter beans. Cut the red onion. Prepare the parsley.

In a bowl, combine the mustard, sugar, vinegar, salt, pepper and give a good whisk. Then add in the oil whilst stirring and incorporate well. Give it a taste and adjust accordingly.

In a large salad bowl, mix the greens, add in the olives, capers, red onion, butter beans, green beans.

Get your vegan aioli ready with the chimichurri spices.

Remove the potatoes from the oven, add to the salad.

Dress with the vinaigrette and drizzle over the aioli.

Top with parsley and enjoy!
Notes
This recipe is gluten free.
When kept in the fridge, will keep for up to several days.