Once you've tried this recipe for butter chicken curry you will never need another recipe. This one has it all: the chicken-like chunks made with roasted tofu. The fragrant, fresh, and deep flavours of the spices. The creaminess of the coconut milk combined with the tanginess of the tomato. Serve up a bowl of this with a portion of long grain rice and perhaps a roti and Bob will be your uncle. Not to toot my own horn but TOOT TOOT this is the best vegan butter chicken curry out there.
Aromatics
Now, the basics of this recipe, called murgh makhani are well established and very common in many similar dishes throughout south east Asia. Many a 'curry' (I say so reluctantly, aware that many people in the EU and the U.S. have a tendency to call nearly everything a 'curry'), but many of these dishes are packed with the potent flavours found in this dish too. Garlic, ginger, chili, cumin, turmeric, coriander, and more.
Making a base
Now that you've got your aromatics and spices going, we can get our dish started. It's really not necessary nor authentic to make a silky smooth curry. It's very common to cook with whole spices and simply let them cook along with the dish so they're perfectly edible once serving. But don't take it from me, more on this here. If you like yours a bit more smooth, which I often do too, you can do the following. Get your onion, garlic, and spices cooking. Add the coconut milk and tomato. Then take your hand mixer or blender and give this a blitz. You'll have a lovely smooth base to add the tofu to later on. If you're looking to go for an even more fine dining experience, you can run the blended mix through a sieve. I've done this a few times and it makes for a fancy meal for sure. But again, not necessary at all.
Butter Chicken Tofu
In my opinion, to get a chicken-like tofu you simply tear the tofu into chunks, pop them onto a baking sheet with some salt and oil, and bake for at least 30 minutes. You don't even need to touch the tofu once it's in the oven. Just wait for it to go lovely and golden brown. Once it's done, pop into your sauce, stir through, and VOILA! It's that easy.
Enough chatting, time to get started on your best vegan butter chicken curry!
Looking for more dinner inspiration? Why not try my lasagne recipe for a change.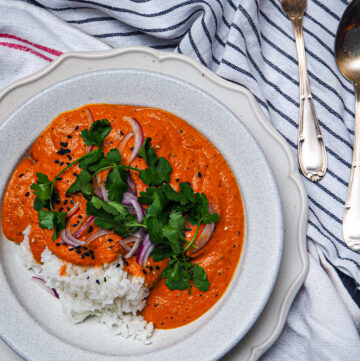 Vegan Butter Chicken
This vegan butter chicken or murgh makhani is a flavour sensation of a dish. Tomato, ginger, coconut milk, spices, with roasted tofu chunks served with fragrant fluffy rice. Yum
Equipment
oven

Blender/Hand mixer

Pot
Ingredients
300

grams

long grain rice

350

grams

traditional tofu

torn into chunks

2

tbsp

vegetable oil

1

white onion, diced

4

cloves

garlic, minced

1

knob

ginger, minced

1

small red chilli, minced

1

tsp

fenugreek

1

tsp

madras spices

1

tsp

nigella seeds

1

tsp

garam masala

1

tsp

cumin

1

tsp

coriander

800

grams

puréed tomatoes

500

ml

coconut milk

salt

to taste

pepper

to taste

4

rotis

optional
Instructions
Start by sautéing onion, garlic, ginger. Once translucent, add the spices. Let them toast for a few minutes. Add tomato and coconut milk. Optional: blend.

Pre-heat oven to 200C (390F). Tear tofu into chicken-like chunks. Distribute on a baking sheet, drizzle generously with oil, sprinkle salt, and bake for 30 minutes or until golden brown.

Cook your rice according instructions. (ALWAYS wash rice, let soak for 15-30 minutes, cover with enough water to place hand flat on rice and water will ust cover hand, cook for about 12 mins, and fluff up rice).

Put tofu into the curry, stir through.

Serve with rice, fresh coriander, some black sesame seeds, and a roti or naan.