Onion bhaji burgers with mango and curry mayo. Honestly I love burgers. Vegan burgers are the best, there's so many variations to play with.
A few weeks ago my partner was eating his Indian take-away. We have a lovely restaurant nearby called Koh-I-Noor, check it out if you're ever in Barcelona. They're so nice there and they have loads of vegan options. Anyway, being the good boyfriend he is, he shared his onion bhajis with me. As I'm eating them I'm thinking: "what if I make these into a burger?". And thus the onion bhaji burger idea with mango and curry mayo was born. I'll also share my burger bun recipe soon!
Onion Bhajis
These onion bhaji burgers are based on a traditional Indian dish. Onion bhajis. They're a typical Indian dish, usually served as a small snack. Depending on the region, the seasoning in these differs. But they all share a common base. Sliced onion tossed in chickpea flour with spices, fried in very hot oil. The crunchy texture combined with the spices go very well together with the fresh mango and curry mayo.
Curry Mayo
For the curry mayo, you can use any vegan mayo you want. All you need to do is add a spoonful of curry powder. I always buy all my spices at the local shops here. I usually go for a mildly spicy curry powder mix. There's obviously many different types of mixes, feel free to dive in and read more here. What you could also do of course, is make my aioli recipe and add curry powder!
I absolutely adore these burgers. They're quick, easy, and so so delicious! You can serve them with a nice salad or oven baked potatoes. Make sure you save this recipe; add a bookmark or pin it to a board on Pinterest!
Well, what are you waiting for? Make these today!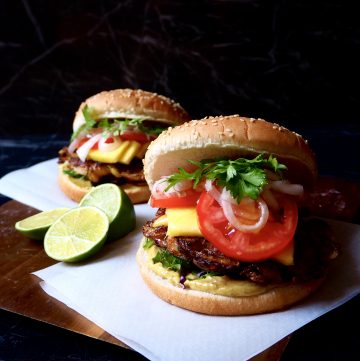 Onion bhaji burgers with mango
These onion bhaji burgers are delicious and quick! On the table in less than 30 minutes. Served with curry mayo and fresh mango.
Ingredients
Bhaji Burgers
1

large white onion, sliced

½

tsp

salt

½

cup

chickpea flour (besan)

handful

fresh mint (finely diced)

pepper

½

tsp

turmeric

½

tsp

cumin

½

tsp

coriander

sunflower oil
Curry Mayo
2

tbsp

vegan mayonnaise

1

tsp

curry powder
Other ingredients
½

mango, sliced

lettuce

fresh coriander

½

red onion, sliced

½

lime

½

tomato, sliced
Instructions
Slice the white onion, add to a bowl, add the salt and leave to the side to rest.

While the onion sits, prepare the other ingredients. Slice the mango, the red onion, the tomato, grab the burger buns and two plates. If you like your burger buns toasted, now is the time! Get the mayonnaise in a small bowl and stir in the curry powder.

After 10 minutes, add the chickpea flour and the seasoning to the onion and mix well.

Heat up the sunflower oil. Make sure the oil is very hot before adding the bhaji mix.

With a big spoon, scoop the bhaji into the hot oil in the shape of a burger. With a spatula, flip them over after a few minutes.

They're done when they're nice and golden brown.

Get the buns ready, add the curry mayo, the lettuce, the bhaji burger, the mango, the tomato, the red onion, a bit of coriander, and dig in!