Here it is! The very best falafel ever. This recipe is straight forward and absolutely delicious. Restaurant quality falafel every single time.
Soak your chickpeas!
The most important element of this recipe is the chickpeas. Only with dried and soaked chickpeas will this work. Trust me, back in the day I tried to make falafel with cooked chickpeas, and let's just say it didn't work. Soak them for at least 12 hours. I always get them ready to soak just before I go to bed. Make sure they're covered with plenty of water as they'll soak up a lot of it. I also recommend adding a teaspoon of baking soda. The baking soda helps soften them as they soak. I use the same trick when I soak chickpeas every single time. Read more about soaking legumes in this great Guardian article.
Mix and rest
Another important part of this falafel recipe is letting the mixture cool and rest. After you've mixed all of the ingredients together in your food processor, transfer them to a bowl. This is when you add the last two ingredients and cover. Ideally you'd let this sit in the fridge for at least an hour. The resting time lets the mixture fully combine and absorb.
Also, the falafels fry beautifully when rolled from the fridge. The hot oil + chilled falafel = pure delight.
Lastly, make sure your oil is HOT. When testing this recipe there were a few times when I prematurely fried. The falafels crack open and look a bit sad. Of course, they still taste great. But hey, eating is done with the eyes and the mouth.
I love having this in a warm, pillowy pita or flatbread. A bit of aioli (I know, not traditional! But delicious!), mixed greens, tomato and cucumber with a splash of lime juice, fresh parsley, a pickled red onion, and sour cream. Also fabulous with a drizzle of tahini, a dollop of vegan yoghurt, or a generous spoonful of hummus.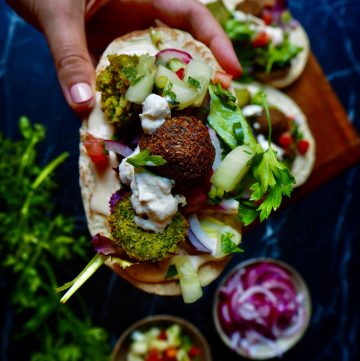 the best falafel EVER!
This falafel recipe gets you those authentic, restaurant quality falafels every. single. time.
Ingredients
200

g

dried chickpeas

1

tsp

baking soda

½

white onion

1

clove

garlic

pinch

salt

pepper

1

tsp

cumin

1

tsp

coriander (dried)

handful

fresh coriander

handful

fresh parsley

1

tsp

baking soda

2

tbsp

chickpea flour

olive oil (depends on size of your pot)*
Instructions
The day before you're planning to make the falafels, soak the chickpeas in a bowl with plenty of water and the baking soda.

The following day, rinse the chickpeas and put them in the food processor.

Add the half onion, the garlic, salt, pepper, cumin, coriander, and the fresh coriander and parsley.

Pulse the mixture, scraping down the sides occasionally. It's done when it has the consistency of coarse sand.

Transfer the mixture to a bowl, add the baking soda and chickpea flour, cover with foil, and place in the fridge for at least 30 minutes. Preferably leave it to rest in the fridge for an hour or two hours.

Then, take the falafel mix from the fridge and roll into balls.

Heat up the olive oil in a pot or pan. Make sure there's enough oil to fry the falafels. If you want to use less oil, you can also use less and just turn the falafels halfway through.

They should be done in about 4-5 minutes, or when golden brown on the outside.

Serve in a pita or flatbread with fresh veggies, hummus, sour cream, and your favourite toppings!
Notes
*feel free to use any other type of oil you prefer. 
You can also shape these into patties and make falafel burgers. Yum! 
You can keep the mixture in the fridge up to 5 days and make some falafels whenever you fancy!
I don't recommend making them and storing them, they go very dry.