This is the creamiest homemade hummus on a sandwich you'll ever have. Read on to grab the recipe!
Sandwich
Ok so first things first; sandwiches are simply one of the best food groups out there. Right? You can really put anything between two slices of bread and it'll be delicious. Now, I've said it before and I'll say it again; the quality of your bread is very important. If you can get your hands on some sourdough, please do. Otherwise, just anything with a bit of grain or texture is a good start. Personally, soft, soggy, doesn't-really-have-any-flavour bread just does not cut it for me.
For this particular sandwich, we're making our own hummus. (Seriously easy and so worth it!). Making some delicious aubergine slices, and topping with veggies. I also always recommend having something tangy on a sandwich. Whether that's in the form of a store bought pickle, a homemade one, or something fermented (think kimchi or sauerkraut), it'll elevate that sandwich.
Homemade hummus
A game changer for the creamiest homemade hummus is using ice cold water. Get an ice cube and pour the water you'll be using over it. I'm not entirely sure why it works. But it does.
Aside from that, you can really use any chickpeas. Whether they're from the shop or you cook them yourself. Hummus really is very simple to make. But oh can it go wrong. I've had some horrible hummus in my life. Stodgy, thick hummus, runny acidic hummus. Ew. But this simple recipe will get you there every single time. You need the fats from the tahini and the olive oil. The slight tang from the lemon. The flavour from the garlic. Salt to taste and some cracked black pepper. That's it.
The creamiest homemade hummus sandwich is wonderful at home or to take with you! Enjoy it! Also delicious in this flatbread recipe!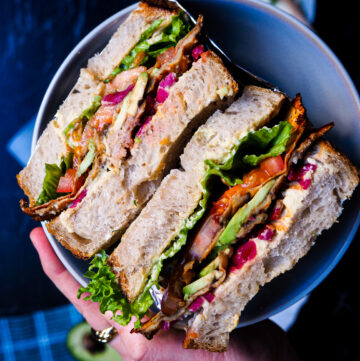 Creamiest Homemade Hummus Sandwich
Spiced aubergine slices on a delicious sandwich with the best and creamiest homemade hummus. This'll be your new go-to!
Equipment
oven

Blender/Immersion Blender
Ingredients
Hummus
1

tin

chickpeas (400 grams)

1

big clove of garlic (or 2 small)

½

lemon

5

tbsp

tahini

5

tbsp

olive oil

75-100

ml

water

(1/4-1/3 cup)

salt

pepper
Aubergine
1

aubergine, sliced

1

tsp

smoked paprika

1

tsp

thyme

1

tsp

onion powder

½

tsp

coriander powder

1

tbsp

liquid smoke (optional)

1

tbsp

olive oil

salt

pepper
Sandwich
4

slices of bread

½

tomato

½

avocado

hot sauce (optional)

something pickled (optional)
Instructions
Rinse and drain the chickpeas. add to a bowl.

add the garlic, pepper, salt, lemon juice.

get your water with ice cube ready.

add the tahini and some of the cold water. blend with blender/immersion blender/food processor.

add olive oil and some more cold water. blend.

taste to see if it needs more salt, pepper, maybe a splash of lemon juice more. blend until smooth and creamy. add a bit more water if you like.

cut the aubergine in thin slices. add all the spices, make sure all the aubergine is covered.

fry in a pan or pop in the oven at 220 C (428F) for 20 minutes. turn halfway and bake until golden brown.

spread hummus on bread. add lettuce, a slice of tomato, some of the aubergine, avocado, more aubergine. optional: hot sauce and something pickled.

spread hummus on the top slice of bread and enjoy!
Notes
Can be made entirely gluten free if using GF bread!