This vegan cheesy hummus pasta is a go-to meal for me. So satisfying for lunch or dinner.
Cheesy Hummus
Let's start with the basics here: you can either a) buy a tub of hummus or b) make your own. I recommend the latter, but also have made this with store bought hummus because hey! we're all in a rush/feel a tad lazy sometimes. Then you'll need nutritional yeast. I've also found that some types of brewer's yeast are fine to use too! Many have been treated so the bitterness is gone. Interesting article about the types of yeast, found here.
Now, I'm not sure why this works but it does. Combine hummus with nutritional yeast and bit of cooking liquid and: cheesy flavour central. It's creamy, umami, salty, just delicious.
Kale
I really enjoy kale. In general but in particular in this dish. Look, I know kale doesn't have a great reputation. It's used as some sort of super foods holy grail. Sometimes it ends up in places it shouldn't belong. (Looking at you smoothies). But hear me out, kale is actually a lovely green. It's not a super green. It certainly won't magically make your worries fade away. Nor make you the epitome of health. It's just a yummy food. Sauté it with a bit of onion and garlic. Add lemon, salt, pepper, chili flakes. That way it keeps some of its texture and is just fabulous.
If you despise kale or for some reason are opposed to having any of it in your house. It's a process, I know. All in due time. Feel free to just use spinach or cavolo nero for example. Something that cooks quickly and has a green colour. You might want to pop in a cherry tomato. That's also fine! Make this dish the way you enjoy it. As long as you get the hummus and yeast in there, all will be well.
I hope you enjoy this recipe for vegan cheesy hummus pasta.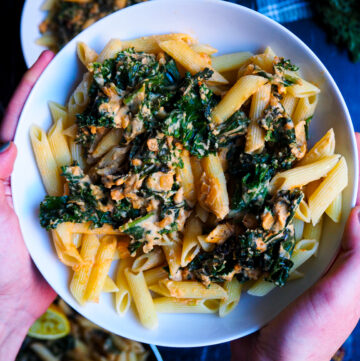 Vegan Cheesy Hummus Pasta
This vegan cheesy hummus pasta is a quick, easy, and delicious meal. I like to add kale and have this on the table in 15 minutes!
Ingredients
500

grams

penne

1

onion, diced

2

large cloves of garlic, minced

1

tbsp

olive oil

salt

pepper

4

stalks

kale, stems removed

½

lemon

1

tsp

paprika (sweet or smoked)

1

tsp

onion powder

1

tsp

garlic powder

chili flakes

½

cup

pasta water

125 ml

1

cup

hummus

250 ml

⅓

cup

nutritional yeast
Instructions
put water on for pasta. salt properly.

mince the onion and garlic. get a pan with oil on medium high heat.

put the pasta in the water once boiling and set a timer if you need to.

sauté the onion and garlic with a pinch of salt. once translucent, add the kale.

drain the pasta and save some of the water.

season the kale and onion.

take off the heat and add the lemon juice, hummus, nutritional yeast.

add half of the pasta water, stir and see if you'd like to add more of it/

combine with the pasta and dig in!
Notes
Keeps in the fridge for several days. 
Gluten free if you use GF pasta!