The perfect dip for any occasion has arrived: white bean garlic oil dip.
Have you ever had one of those snacks that you just can't stop thinking about? That is this dip with the garlic oil for me. It's so smooth and creamy and the oil goes so well with it. You can literally dip a carrot in or a tortilla chip. Makes everything more delicious. I'd say this dip is a great party food (for when we can have parties again, yeah?).
It's also a nice change up from hummus! It's very similar to hummus, just made with different beans. You can blend this up with an immersion blender or a food processor. I personally tend to use the immersion blender (handheld) because it's less of a fuss. And less of a clean up too.
Garlic Oil
I guarantee that once you start making your own infused oils at home you won't go back. They are so delicious and fantastic to have around. Instead of drizzling some olive oil on a salad, you could add a bit of garlic oil. Doesn't that sound amazing? It's especially delightful drizzled over soup as well, for example this minestrone.
The key to making this oil is not heating up the oil too hot. We do not want to burn the garlic, we want it to slowly cook a bit. The sesame seeds add a lovely bit of crunch and look beautiful too.
Just like my hummus recipe, the secret to making a very smooth white bean dip with garlic oil is using ice cold water. So get the ice cubes ready.
Make sure you share this recipe, bookmark it, save it on Pinterest. And tag me in your photos, I love to see it!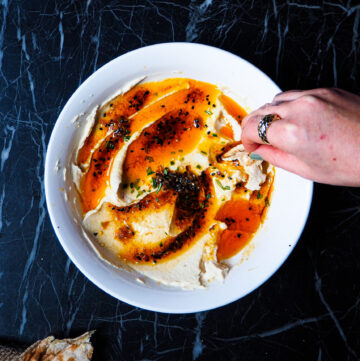 White Bean Garlic Oil Dip
A delicious, creamy dip made with white beans (broad beans) and a homemade garlic oil top top it off.
Ingredients
Bean Dip
1

jar

white beans (broad beans)

400 grams

4

tbsp

tahini

4

tbsp

olive oil

1

clove of garlic

½

lemon

salt

pepper

⅓

cup

ice cold water

60 ml
Garlic Oil
1

cup

olive oil

250 ml

4

cloves of garlic, minced

1

tbsp

sesame seeds

½

tsp

salt

½

tsp

paprika

½

tsp

chili flakes

feel free to add more if you like it spicy
Instructions
Bean Dip
Rinse and drain the white beans. Add to a bowl.

add the tahini, olive oil, lemon juice, salt, pepper, cold water. Blend until smooth. add a bit more water if necessary.
Garlic Oil
Warm the olive oil on a low heat. Do not heat on a high heat. Mince or grate the garlic, add to the oil.

Add the sesame seeds, paprika, chili flakes and salt. Let this simmer on a low heat for about 10/15 minutes.

Drizzle over the bean dip. You'll have enough oil to last for a while. Drizzle on salads, soups, sandwiches, anything.
Notes
This keeps in the fridge for several days. 
Completely gluten free.