This miso sweet potato and quinoa bowl has it all. Miso glazed sweet potato, quinoa, chickpeas, leafy greens, and more. Topped with a miso vinaigrette. Some sesame seeds, and a sprinkling of crispy onions.
Miso Glazed Sweet Potato
For this recipe we'll be roasting the sweet potato cubes in a miso marinade. The sugar in the sweet potato and the added bit of sugar in the marinade makes them go very nice and crispy. The edges caramelise in the oven and go lovely crispy and chewy.
To coat the sweet potato cubes I like to put them in a Tupperware with the marinade. Then I just give them a good shake. Takes a lot of the work out of having to stir them around a bowl. All that's left is spreading them out on a baking sheet and popping them in the oven.
Miso 'Vinaigrette'
To round out the flavours, we're dressing this salad with a sort of vinaigrette. I personally love a classic vinaigrette. The tartness, slightly sour, sweet flavours go so well with some crisp greens. Simply by using some miso paste instead of the traditional mustard we've made the vinaigrette. For this one I like to use a light miso, like this one. A bit of lemon juice, some agave, and olive oil. Delicious.
Building the Bowl
The sweet potato and vinaigrette add a lot of flavour to the dish. Hence we're keeping the rest fairly simple. A good handful of spinach. (Use another leafy green vegetable if you're no fan of spinach). Quinoa, chickpeas, a quickly pickled red onion, sesame seeds, and crispy onion bits. As you'll learn, I love crispy onion bits. (I also used them on my Mac 'n Cheese).
The quinoa can be cooked according to the instructions on the packet. I like to give my grains a rinse before cooking. I so about 1:2 quinoa to water ratio. Add a bit of salt to the water, a splash of sesame oil, a bay leaf.
As per usual, share this miso sweet potato & quinoa bowl recipe! Pin it to Pinterest, bookmark, send to your pals. Leave me a comment here or on Instagram when you make this!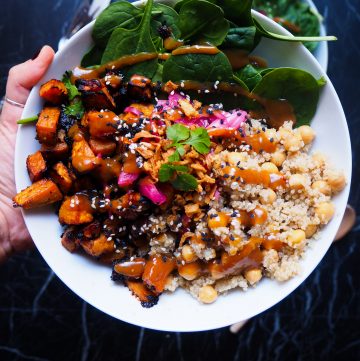 Miso Sweet Potato & Quinoa Bowl
A filling, plant-based bowl of goodness: miso glazed sweet potato, quinoa, leafy greens, and more topped with a miso vinaigrette
Ingredients
1

large sweet potato, peeled and cubed
The Miso Glaze
1

tbsp

miso

1

tsp

lemon juice

1

tsp

sugar (brown or cane)

1

clove of garlic, grated

2

tbsp

olive oil

1

knob of ginger, grated

(about 2x2 cm/1x1")
Bowl
½

cup

quinoa (±75 grams per person)

1

cup

cooked chickpeas (±50 grams per person)

2

handfuls of spinach

½

red onion, sliced (option: quick pickled in a bit of vinegar with sugar and salt)

1

tbsp

sesame seeds, black & white

1

tbsp

crispy fried onion bits

fresh coriander
Miso Vinaigrette
1

tbsp

miso

1

tbsp

agave (or maple)

1

tbsp

lemon juice

1

tbsp

olive oil

cracked black pepper

tiny pinch of salt
Instructions
Preheat your oven to 200 °C and line a baking sheet. Start by peeling the sweet potato and cutting it into cubes.

Then we'll move onto the miso glaze. In a cup, combine the miso, lemon juice, sugar, garlic, olive oil, and ginger. Whisk together. Coat all of the sweet potato cubes and get them onto your baking sheet. Pop into the oven for 30 minutes or until crispy and browned.

Now cook the quinoa according to the instructions. Rinse the chickpeas and set aside, season with a bit of salt and pepper.

Get a bowl for the miso vinaigrette. Add the miso, agave, lemon juice, olive oil, salt and pepper and whisk. Cut the onion and if you're going for it, make a quick pickle by putting the red onion in a bowl with a splash of vinegar, sugar, and salt.

Get two bowls ready to serve. Add the spinach, the cooked quinoa, the chickpeas, the sweet potato, the red onion, the crispy onion bits, the sesame seeds, the vinaigrette, and a bit of fresh coriander.
Notes
This recipe is totally gluten free. 
You can keep the sweet potato in the fridge for up to a few days. Reheat in the oven or enjoy cold! I even put some in a sandwich and yum, it was delicious.