This no bake lime cheesecake is pure velvety, refreshing goodness. Zesty lime, creamy cashew cream (from scratch!), sweet crumbly biscuit base. And better yet: no oven needed!
Biscuit Base
I love using oatmeal digestive cookies for the base. Like these. They're similar to graham crackers. You can easily make this recipe gluten free by opting for some GF biscuits! It's best to choose a simple biscuit as a base. That way you're not overpowering any of the other flavours. For this no bake lime cheesecake, we're taking some of the cookies and grinding them up with some vegan butter. You can use a food processor or the attachment on an immersion blender.
For this no bake version, all there is to it, is putting the base in the freezer for about 10 minutes.
Cashew Cream
There's no problem with using store bought cream cheese. But I prefer making my own for a cheesecake. It's fairly simple, you only a need few ingredients. All it takes is a little preparation. Just like my recipe for vegan sour cream (like I use for my 15 minute tacos) you'll need to soak the cashews. It's best to let them soak overnight. However, if you're in a pinch you can also soak them for an hour or two in hot water. Or you could even boil them until they've softened.
Very important when making your own cream from cashews is to blend them well. If you have a powerful blender, make sure you blend them for a few minutes. This will also work in a food processor or with an immersion blender.
Limes
The lime in this cake makes for a lovely refreshing, zesty cake. A bit of lime zest in the cashew cream is a nice touch. I  recommend making sure you clean the limes properly. And if you can, buy organic limes. As a rule, it's always good to clean fruits and vegetables very well when using the skin or zest.
I really like the idea of serving this at a brunch. It looks beautiful with the slices of lime on top. I have yet to find someone who doesn't like a) limes and b) a cheesecake!
Make this lime cheesecake today!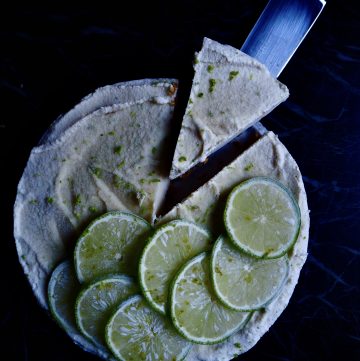 no bake lime cheesecake
this no bake lime cheesecake is perfect for a late summer brunch. zesty, creamy, and just all-round delicious. I used a relative small cake tin, so make sure to measure yours and adjust the quantities as needed!
Equipment
cake tin (18CM Ø or 7⅛ Ø inches)

food processor or blender

freezer
Ingredients
Biscuit Base
10

oatmeal digestive cookies

or ±155 grams

1

heaping tbsp

margarine (or vegan butter or coconut oil)

or 40 grams
Lime Cashew Cream
370

g

soaked cashews

or 2.5 cups

85

g

water

or ½ cup

pinch

of salt

2

tbsp

agave syrup

2

tbsp

coconut oil

2

juice of 2 limes

1

zest of 1 lime
Instructions
line a cake tin with parchment paper and a bit of coconut oil or margarine. i used a relatively small one; 18CM Ø (7⅛inches).

start by grinding up the oatmeal digestive cookies. once they're looking more like crumbs, add the margarine or vegan butter, and blitz some more to incorporate.

place the base in the freezer for at least 10 minutes.

while the base sits in the freezer, proceed by making the cashew cream filling.

to a food processor, add the soaked cashews, the water, the pinch of salt, the agave, the coconut oil, and the juice of 2 limes. blend this for 3 to 5 minutes depending on the strength of your processor or blender. make sure you scrape down the sides as needed and check the taste. add the zest of 1 lime at the end.

take the base out of the freezer and pour the lime cashew cream on top. slice the last lime and place the slices decoratively on top of the cake. let this rest in the freezer for about 2 hours.

transfer the cheesecake to the fridge at least 30 minutes/an hour before serving.

the cake should keep in the fridge for up to 5 days.
Notes
You can make the cashew cream with an immersion blender or a blender. 
Agave syrup can be substituted for any other sweetener of choice.
You can make this cheesecake gluten free by using GF biscuits for the base!