15 minute vegan tacos with beans and fresh guacamole. Now we're talking. These tacos are easy to make and ready to eat in 15 minutes. For one of those nights that you don't feel like cooking. But also you want to have a nice meal. That's when you head on over to ohsoplantiful and grab this recipe!
Vegan tacos
Tacos are so easily veganised. I love them with beans, it's quick and easy. But I also love taking a bit more time and making jackfruit tacos, spiced tofu tacos, or sweet potato tacos. Recipes coming soon!
There's a few key ingredients you need to make a nice taco. First, a good tortilla. I luv a corn tortilla but I also enjoy wheat tortilla. Second, make sure you have some nice, ripe avocados. And get local avocados if you can, less harm and emissions. Then we move on to the taco filling, in this case the beans. Now we're obviously not using plain beans, this isn't our first rodeo. The beans are fried and spiced. To offset the creamy avocado and salty beans, we need some freshness. Freshness comes in the form of sour cream, lime, and coriander. Optional (but not really optional) is something pickled. A quick pickled red onion for example. And last but not least: spice! Hot sauce! A kick! This can come in the form of Valentina which I also used in this recipe. But Cholula Salsa is also really good.
Sour cream
In this recipe I've used homemade cashew sour cream. I'll also upload the recipe for that soon! It's not necessary to use homemade sour cream of course. You can easily use a vegan yoghurt or a store bought vegan sour cream. In Spain though I've found that it's 1. hard to find and 2. quite expensive. Which is why I like making my own.
15 minute meals
The trick to these 15 minute recipes is to make sure your flow is in order. The order of when to prepare what will define how quickly you'll have these 15 minute vegan tacos on the table and into your mouth. That's why it's key to follow the steps. Make sure the oven is warm to heat up the tortillas. Get the beans on first since they need to be fried. Then move onto the guacamole and assembling the tacos. I recommend eating these straight away!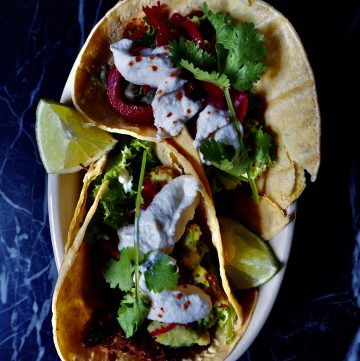 15 minute vegan tacos
These tacos with beans are quick, easy, and delicious! Perfect to cook on a week night when you don't want to spend lots of time in the kitchen.
Equipment
small to medium sized pot

oven or microwave
Ingredients
beans
2

tbsp

olive oil

200

grams

beans (1 cup)

1

clove

garlic, minced

½

tsp

cumin

½

tsp

chilli flakes

½

tsp

smoked paprika

1

tsp

paprika powder
guacamole
1

large

avocado

½

red onion, minced

1

tomato, diced

1

lime

handful

fresh coriander, chopped

salt

pepper
toppings
handful

lettuce

hot sauce

sour cream

pickled red onion or cabbage
Instructions
start by heating up the oven and placing the tortilla's in there to warm up slowly.

get a small pot on a low heat and add olive oil. once warm, add the minced garlic and sautée. go easy and make sure the garlic doesn't burn.

after a minute or two, add the rinsed beans and don't be afraid to smoosh the beans so it becomes a bit more of a paste. add salt, pepper, cumin, paprika (both smoked and mild), and chilli flakes. let this sit on a low heat until ready to serve. cover with a lid.

in a bowl, mash the avocado and add the minced red onion and minced tomato. mix together and add the juice of 1 lime, the chopped coriander, and salt and pepper to taste.

take your tortilla's out of the oven.

to assemble the tacos, take a tortilla in one hand and scoop in some beans, then top with guacamole, sour cream, lettuce, red onion, and hot sauce and eat straight away!
Notes
Once assembled, the tacos should be eaten straight away. 
The beans can be stored in the fridge for up to 5 days.
The guacamole should be covered with tin or plastic foil and can be stored for up to 3 days more or less. But I recommend not leaving guacamole in the fridge.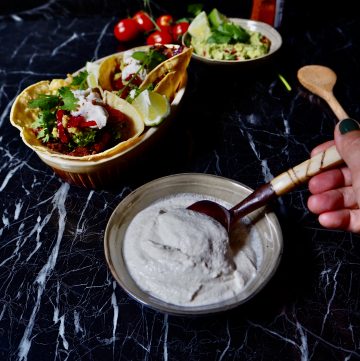 Cashew Sour Cream
Easy peasy lemon squeezy cashew-based sour cream!
Ingredients
2

cups

soaked cashews (346 grams)

2

juice of 2 large lemons

pinch

salt

¾

cup

water

pepper
Instructions
The night before, or early in the morning, soak the cashews. If you don't have time or forgot to soak them, you can place them in boiled water for 3-4 hours or even boil them for an hour.

Place the cashews in a food processor and add the lemon juice, the salt, the pepper, and the water and blend until completely smooth.

Blend for a few minutes, depending on the strength of your food processor.
Notes
Keep in the fridge up to a week.