This is by far my favourite summer sandwich. In my opinion, everyone needs a favourite sandwich. A sandwich for every season! Ever since I started baking sourdough bread over a year ago, I've really upped my sandwich game. They're the perfect meal; you can add veggies, your favourite sauces (yes, plural), and they're easy to take with you to a picnic or on a hike.
Making a good sandwich: a how-to
For me, a sandwich needs a few components to make it a good sandwich. A bad sandwich makes me very sad. So, how does one make a good sandwich? First, start properly, with good bread. I typically use my own, but sometimes I might buy a bread if I'm not in the mood to bake. If you're ever in Barcelona and looking for a tasty loaf of bread check out the pan de payés at Funky Bakers. Then, at least one good type of dressing or sauce, a variety of vegetables, and a protein. But, when making a sandwich, it's not only about flavours. It's also about textures. If you want to take your sandwich to the next level you need some crunch in there to offset the softness of the bread.
A mix of flavours
This particular sandwich combines Mediterranean and Asian influences. The tangy creaminess of the aioli, a slight hint of spice from the sriracha mayo, a sweet crunch from the red onion. The freshness from the coriander, the satiating tofu, and extra crunch and nutrition from the mixed lettuce. You can use plain tofu, sliced up, maybe char it on both sides, or use my recipe for BBQ tofu which you can find here.
I love bringing a delicious homemade sandwich like this one with me to the beach or when I'm going out for the day. I also have a standing promise to prepare a few of these for an upcoming road trip. A definite crowd-pleaser for any occasion.
So, don't wait any longer, make this sandwich today!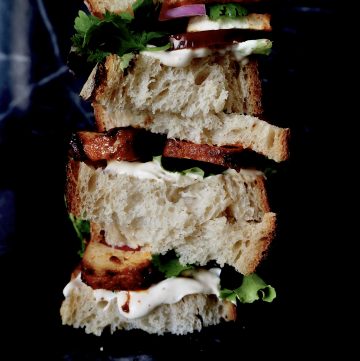 my favourite summer sandwich
this sandwich has all that you can desire from a sandwich. it's the perfect summertime meal to enjoy on the beach or in the park, or for brunch in bed.
Ingredients
4

slices

sourdough bread

(or your favourite bread)

2

tbsp

aioli

(or vegan mayo)

a

handful

mixed lettuce

(i used a mix of baby leaf lettuce)

150

grams

tofu * (sliced)

(smoked, charred, plain, or BBQ tofu)

½

red onion

a

handful

fresh coriander

2

tbsp

sriracha mayo

salt

pepper
Instructions
start by slicing some thick slices of bread. then on the bottom slice, put a generous spoonful of aioli.

next place the lettuce on the aioli. add the tofu slices.

top with the red onion, fresh coriander, salt and pepper.

drizzle the top slice with sriracha mayo and top the sandwich.

cut the sandwich in half and serve right away or pack it up for a delicious meal to go!
Notes
*If you don't like tofu, you could sub for some vegan cheese. Also optional: some tomato slices or maybe some cucumber.
eat on the same day.