Welcome to my very first post on the new website! And a very good one at that: a show stopping smokey BBQ tofu. If you're new here, you can find out a little bit about me by clicking here.
Origins
Cabrils. The lovely small village of Cabrils is where my partner, myself, and seven of our good friends rented a villa after lockdown. It was the first time since early March we were all allowed to go out and do regular human things like socialise, share meals, leave our houses, and see our friends. Barcelona (and the rest of Spain for that matter) had been on one of the strictest lockdowns in Europe. For weeks, nay, months on end we were confined to our homes, only allowed out for essential trips such as the supermarket or the pharmacy.
So, when the restrictions were fully lifted and lives could be resumed we decided on a get-away. For six days, we swam in the clear blue water of the pool, worked on our post-lockdown summer tans, drank ice cold bottles of beer and thirst-quenching cocktails, and made some incredible food. When I say incredible food, I mean incredible food. I highly recommend going on a trip with a bunch of foodies.
Waking up as the light filters through the curtains, in a bedroom that isn't ours was marvellous. The sound of people in the kitchen, the smell of a freshly brewed batch of coffee. There was freshly foraged rosemary, sage, and thyme. Frosty fresh margaritas. Heady espresso martinis. Crispy baked potatoes, spicy tomato pasta, fragrant walnut aubergine dip, homemade flatbreads, and so on.
On our last night, we organised a grand finale barbecue. Having been around such good food my lovely friends, I felt inspired. This if when I came up with the following recipe for a sweet yet spicy, smokey miso glazed tofu.
Back to the actual recipe
I absolutely love using miso in a variety of ways, and i tend to use many different types of miso. For this recipe, I used a dark miso like this one. Make sure to browse your local asian grocer for a miso you like instead of ordering from amazon of course. I also use gochujang paste in this recipe, a Korean pepper paste that gives anything a lovely hit of spice. I'm sure the asian grocer will also carry it, to give you an idea this is the brand i've been buying.
This tofu dish is a real showstopper at a barbecue or a dinner party. At the villa i made it on the barbecue, but I've since made it at home in the oven and that also works like a charm. You can marinade for a few hours if you'd like, but I recommend making this the night before and marinating overnight.
The Cabrils trip will forever be one of my favourite holidays and some of my best memories.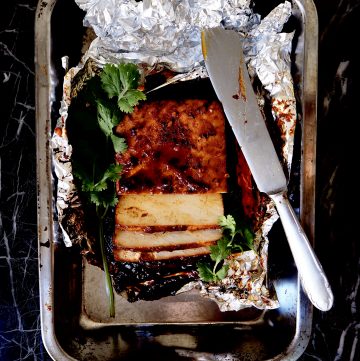 the best BBQ tofu
this smokey, spicy, and sweet BBQ tofu recipe is perfect for all your summer get-togethers
Ingredients
500

grams

extra firm tofu
Marinade
3

cloves

of garlic

(minced)

3

tbsp

olive oil

1

tbsp

miso

1

tbsp

agave syrup *

1

tbsp

liquid smoke

(i used hickory)

1

tsp

gochujang paste**

1

tsp

smoky hot sauce

(i used Valentina)

1

tsp

rice vinegar ***

1

tsp

smoked paprika

1

tsp

sweet paprika

1

tsp

dried thyme

1/2

tsp

chilli flakes

1

pinch

of salt

cracked

black pepper
Instructions
start off by making the marinade for the tofu. in a bowl, mix the minced garlic, olive oil, miso paste, agave, liquid smoke, gochujang paste, hot sauce, the vinegar, the smoked and sweet paprika, the thyme, the chilli flakes, and salt and pepper.

heat a griddle pan (or regular pan) on a high heat. char the tofu on all sides.

place the tofu and the marinade in a sealable container, make sure the tofu is covered with the marinade, and place in the fridge. leave for 6 hours or overnight.

when you're ready to prepare the tofu, wrap it in tin foil along with all the marinade. here you decide on how to cook the tofu. option 1 is to place it on a hot barbecue for 30 minutes. option 2: pre-heat the oven to 220°C degrees (428°F) and bake for 30 minutes.

serve right away with some fresh coriander.
Notes
*you can sub maple or even sugar for the agave
**feel free to try another type of pepper paste or spicy paste (maybe sambal?). it'll come out slightly differently of course. 
***you could use other vinegar or even lemon juice if you're in a pinch