This lentil and spiced sweet potato bowl is a perfect make-ahead meal. Keep reading to grab the recipe!
Nourish Bowls
I think these salad type bowls are also called nourish bowls. Basically, a bowl where you throw a bunch of nice ingredients together. You could really use anything for these. I love making these kinds of meals because you can make a lot in advance and then you don't have to think about preparing lunch or dinner for at least a day or two. It's versatile as well, you can pop this into a wrap too if you'd fancy. I definitely recommend making my hummus recipe to top this off.
Sweet potato
I love a good sweet potato. They're filling, sweet, they caramelise lovely in the oven. Paired with a plant protein like lentils you have a great base for a meal. So satisfying and full of goodness. I always think a bit of spice goes well with a sweet potato to complement the sweetness.
Combining textures is equally as important as flavours. That's why it's so delicious to add a bit of crunch from the nuts and the radishes. I also love something pickled or fermented. I don't really follow any recipe when I make a fermented vegetable. Here's one you can check out. When you have a lot of one type of vegetable, say cabbage or carrots, or even radishes or cucumber, it's a wonderful way of preserving them. Either by pickling (takes less time) or fermenting (takes a bit more time before the tang hits).
As for the greens, I used a mix of lettuce and spinach, mostly because that's what I had in the fridge. I always like combining two or more types of greens, they have all of those lovely minerals in them that are good for us.
Make my lentil & spiced sweet potato bowl today.
Enjoy!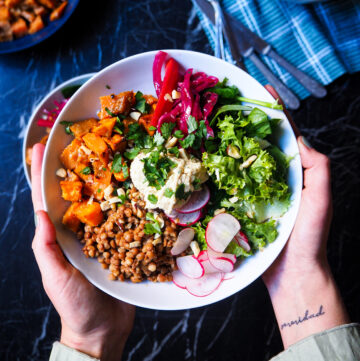 Lentil & Spiced Sweet Potato Bowl
A delicious, filling bowl of goodies: miso lentils, spiced sweet potato, hummus, greens and more. Takes about half an hour to make too!
Ingredients
2

sweet potatoes, medium size

salt

pepper

1

tsp

onion powder

1

tsp

garlic powder

½

tsp

coriander

½

tsp

cumin

chili flakes

1

tbsp

olive oil

1

jar

lentils

(400 grams)

1

tbsp

miso

1

tbsp

water

½

tsp

brown sugar

chili flakes

handful of lettuce

handful of spinach

½

lemon

6

radishes

4

tbsp

hummus

4

tbsp

crushed nuts
Instructions
preheat oven to 180 C( 350 F)

peel and cube the sweet potato. add the seasoning and olive oil.

spread out onto a baking sheet lined with baking paper

rinse and drain the lentils

in a small bowl or cup mix the miso with water and brown sugar. add to the lentils. stir.

clean lettuce and spinach as needed and add to a bowl.

add the sweet potato, lentils, some radishes, a dollop of hummus, some nuts, a bit of olive oil.

optional: add something fermented like kimchi, or a pickle.
Notes
This recipe is gluten free.
Keeps in the fridge for up to a week.