This easy vegan aioli is absolutely delicious. Who doesn't love a good aioli? I guarantee this aioli is the easiest, quickest, and most delicious (vegan) aioli you'll ever have. It goes so well paired with bread, potatoes, maybe a vegan kebab. Or on a scrumptious sandwich of course. I've been tinkering with this recipe for well over a year now. So I can now guarantee you this aioli comes out wonderfully every. single. time. My aioli has fresh garlic, mustard seeds, and more.
Aquafaba
The most important ingredient in this recipe is aquafaba. But what exactly is aquafaba? Aquafaba is the liquid found in a tin or jar of legumes (like chickpeas). Read more about aquafaba here. Why do we use aquafaba? Aquafaba's used in recipes because of its properties very similar to egg whites. But without the animal cruelty. For example, you can use aquafaba to make merengue, in pastries, or to make emulsified sauces. Such as mayonnaise, hollandaise, and aioli! I prefer using aquafaba from a tin of organic chickpeas. However, any tin or jar of chickpeas will do. I've also used aquafaba from a tin of beans, but it's slightly thicker. Which will result in a smaller amount of aioli. Therefore I recommend using a tin of chickpeas.
Aioli
Let me quickly add here that this is not a traditional recipe. (In terms of the ingredients). But what I can promise is that it'll remind you of abuela's aioli. Don't have a Spanish grandmother? Then this aioli will remind you of that time you had patatas bravas somewhere along the Spanish coast. This recipe is more of a mayonnaise-aioli hybrid. Mostly because it's got lemon juice, mustard seeds, and sugar in. Plus, I've chosen to use sunflower oil instead of olive oil. Olive oil goes bitter very quickly when using an immersion blender. Feel free to use any other oil, like avocado or canola. Obviously, that'll drive up the cost per portion a little.
I'm certain you'll love this aioli, and so will your friends and family. Not only is it easy to make, it's pretty cheap too! Please leave me a comment if you make this. Either here or on Instagram or Facebook. I love hearing from you!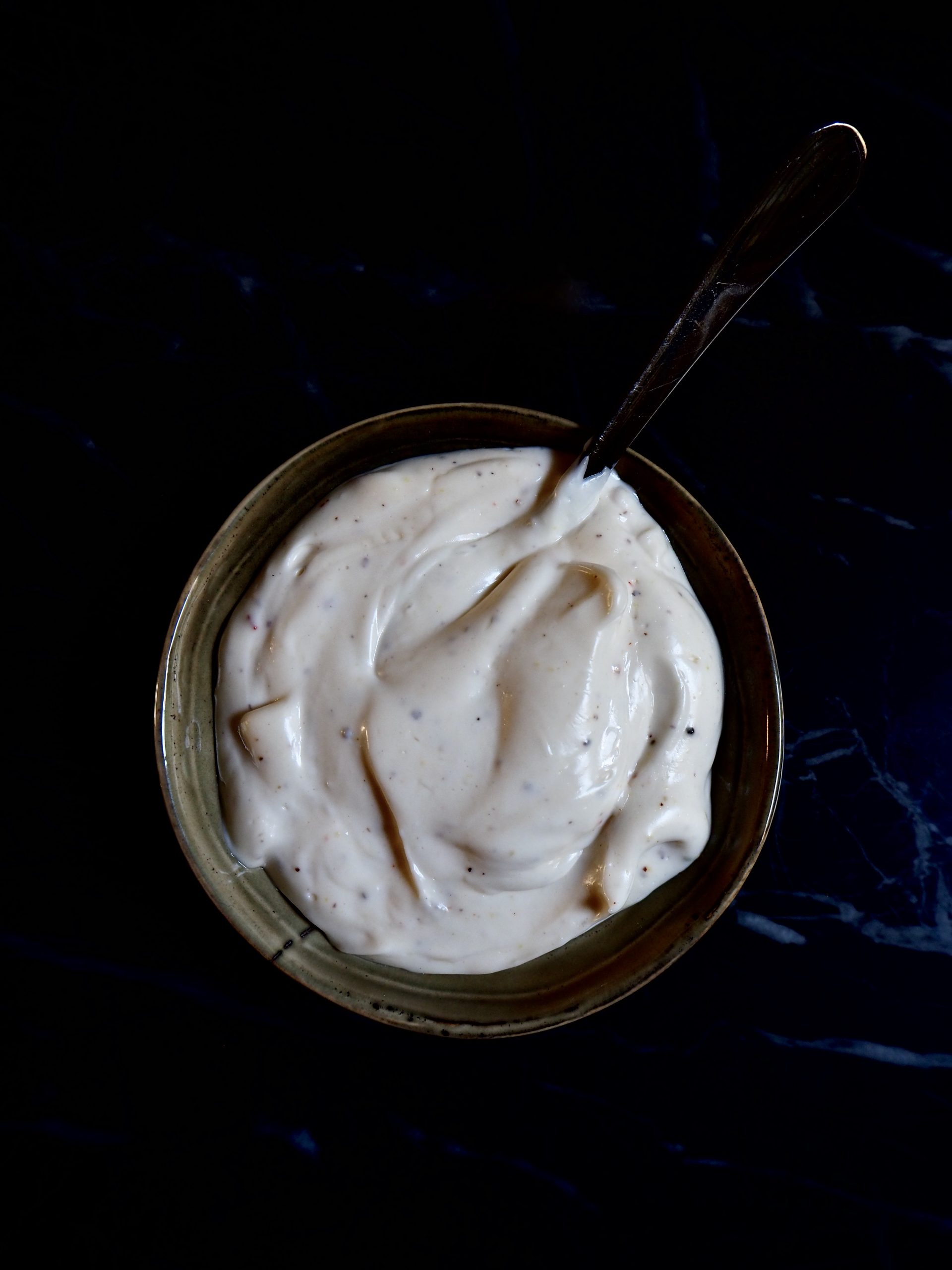 easy vegan aioli
this aioli is delicious, cheap, and so easy to make. aquafaba and sunflower oil as a base, and a few other ingredients to make this the best (vegan) aioli out there!
Equipment
immersion blender

colander (strainer or sieve)
Ingredients
100

ml

aquafaba

1

clove

garlic

salt

pepper

¼

tsp

mustard seeds *

¼

tsp

dried chilli flakes

1

tsp

lemon juice **

½

tsp

sugar ***

350

ml

sunflower oil
Instructions
strain the chickpeas until you have 100 ml of aquafaba. put the aquafaba in a tall and narrow recipient (this is to make blending easier).

add the garlic, salt, pepper, mustard seeds, chilli flakes, lemon juice, and sugar to the aquafaba.

on low speed, blend this together until you have a foamy mixture.

then, gradually start adding the sunflower oil whilst blending. when the aioli starts to thicken, move the blender up and down to incorporate all the oil.

if you prefer a runnier aioli, use less oil. if you prefer a thicker aioli, use a little more oil.

that's it! the aioli is done. use right away or store in the fridge for up to two weeks.
Notes
*instead of mustard seeds, feel free to use mustard. 
**you can substitute the lemon juice for vinegar. 
***would you rather not use any sugar? agave or maple syrup will also work.